Due to today's forecast and hazardous road conditions throughout the day, Kearsley Community Schools will be closed today, Wednesday, January 25th. Pumpkin Patch will remain open for enrolled students. Stay safe Hornets!
No school Monday, January 16, in honor of Dr. Martin Luther King Jr. Day.

Reminder - this Wednesday, January 11, is an Early Release day for our students.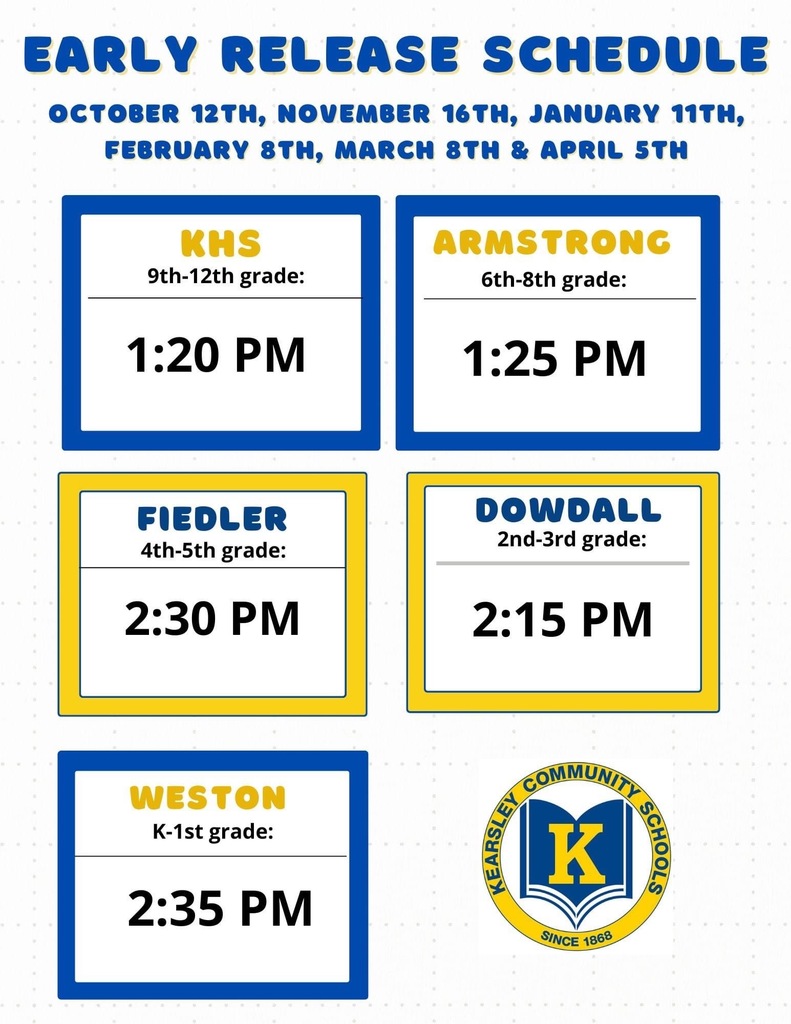 Wishing & and yours a some well-deserved downtime and a very happy new year to come. Happy New Year 2023! Kearsley Community Schools Holiday Break begins Dec. 22, 2022 through Jan. 3, 2023. School resumes Wednesday, Jan. 4, 2023.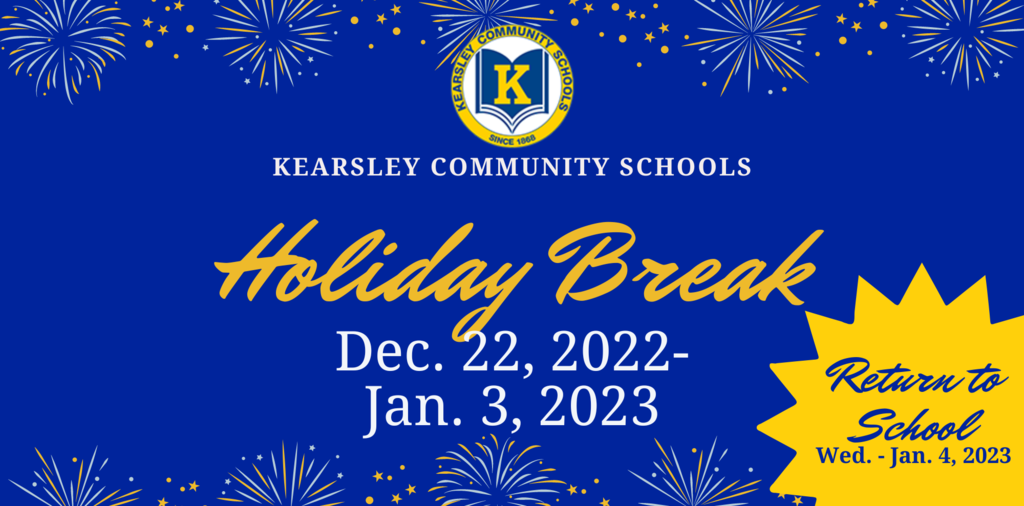 KHS Juniors & Senior in Project Bike Tech have been working hard to refurbish 40 single-speed children's bikes that have been donated to our new program. We are very proud to say these bikes are now ready for new riders in our Kearsley community. Please click on this link to request a refurbished bike for your Kearsley student(s), K-5. Limit 2 bikes per family. Details about the giveaway & distribution are located on the top of the form. Requests will be reviewed on a first come, first serve basis. The form will close when we have reached capacity.
https://forms.gle/W4NyobqAJAem7SbP8

We celebrated our longtime mechanic Greg Ellsworth, who retired November 23. Thank you Greg for keeping our bus fleet in top condition and consistently going above and beyond the call of duty. You'll be missed.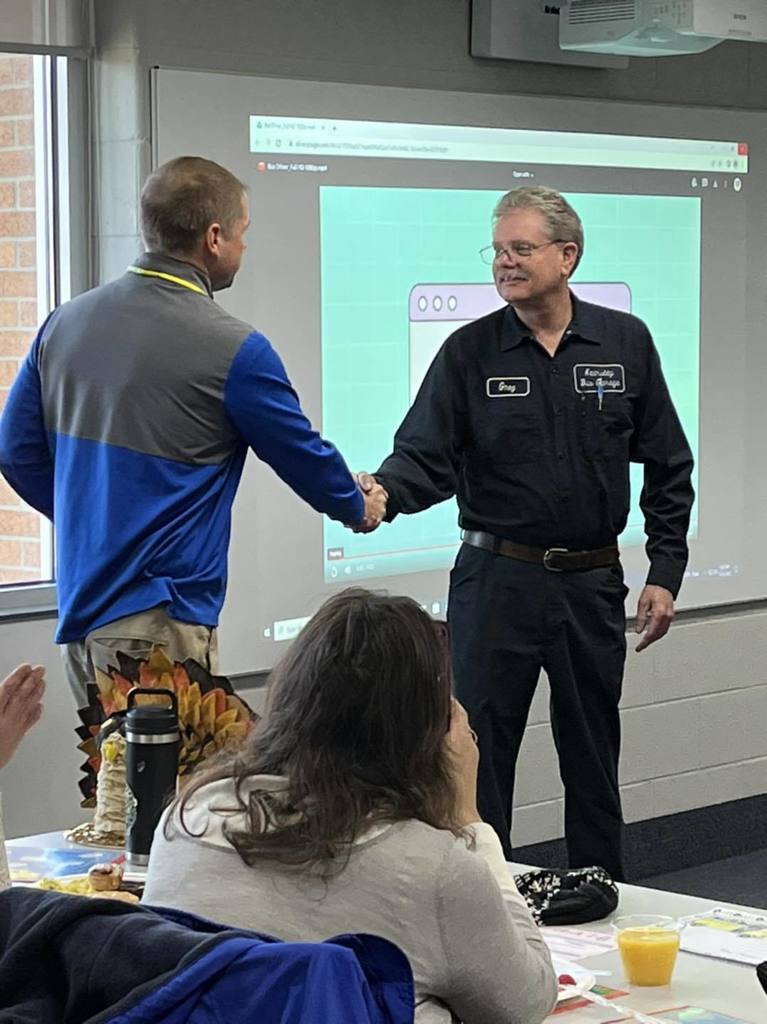 On November 23 we expressed our thanks to our amazing Kearsley bus drivers with our annual Bus Driver Appreciation Breakfast. Thank you drivers for all you do each day to ensure our students are safe! We are incredibly thankful for all of you. 🚌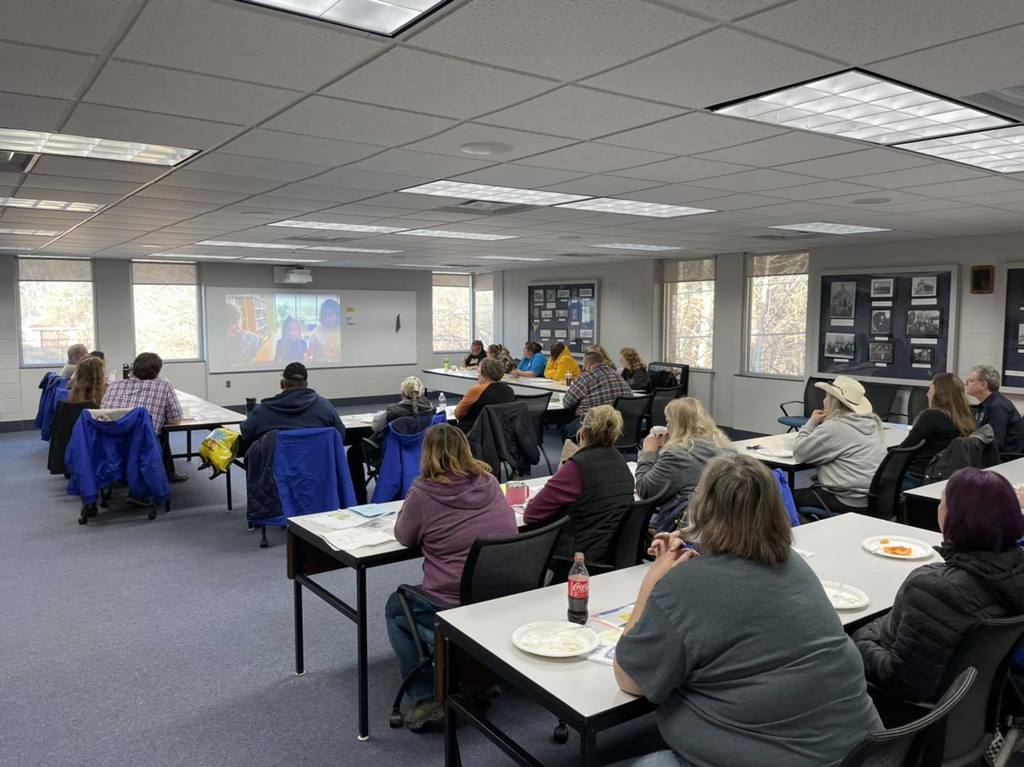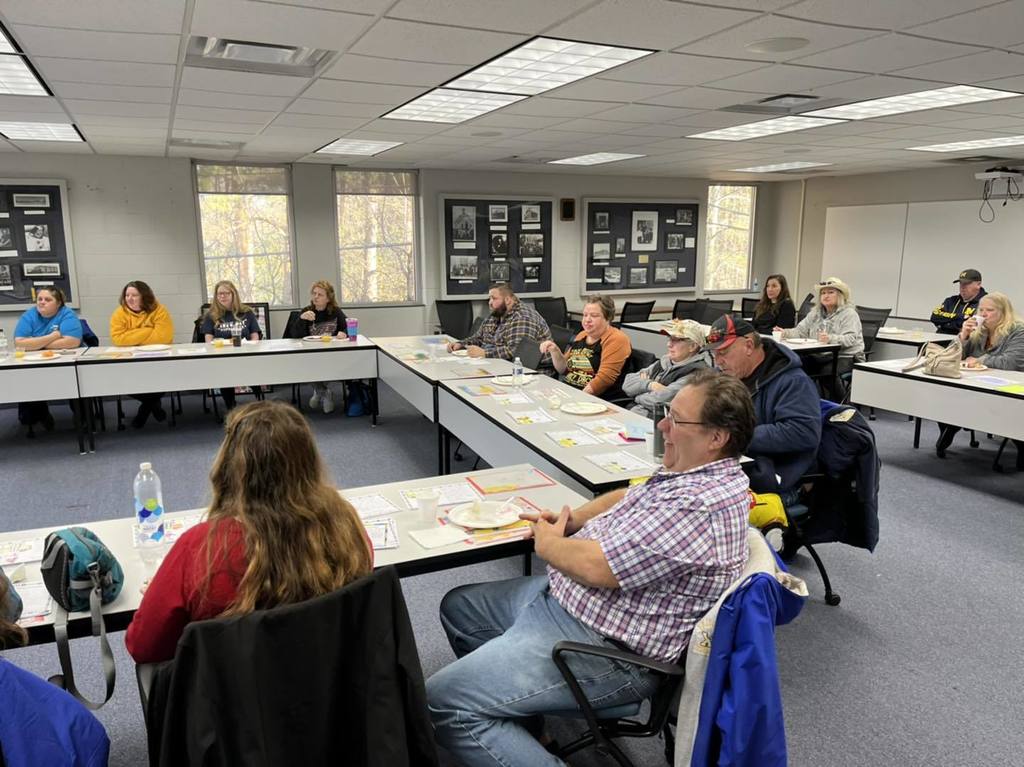 Parent-Teacher conferences begin tonight. We look forward to seeing all our families for conferences! Wednesday, November 9, 2022 AMS 3:30pm-6:30pm KHS 3:30pm-6:30pm DES 3:30pm-6:30pm FES 3:45pm-6:45pm WES 3:50pm-6:50pm Thursday, November 10, 2022 AMS 2:30pm-5:30pm KHS 2:30pm-5:30pm DES 3:30pm-6:30pm FES 3:45pm-6:45pm WES 3:50pm-6:50pm Friday, November 11, 2022 No School

Tonight's Homecoming festivities begin with the parade at 5pm, starting at Paro and finishing at KHS. The Tailgate Party for Kearsley Christmas Charities will be in the South parking lot of KHS from 5:30-7pm. Tickets available for purchase at the event. Football game v. Holly begins at 7pm. Lets go Hornets!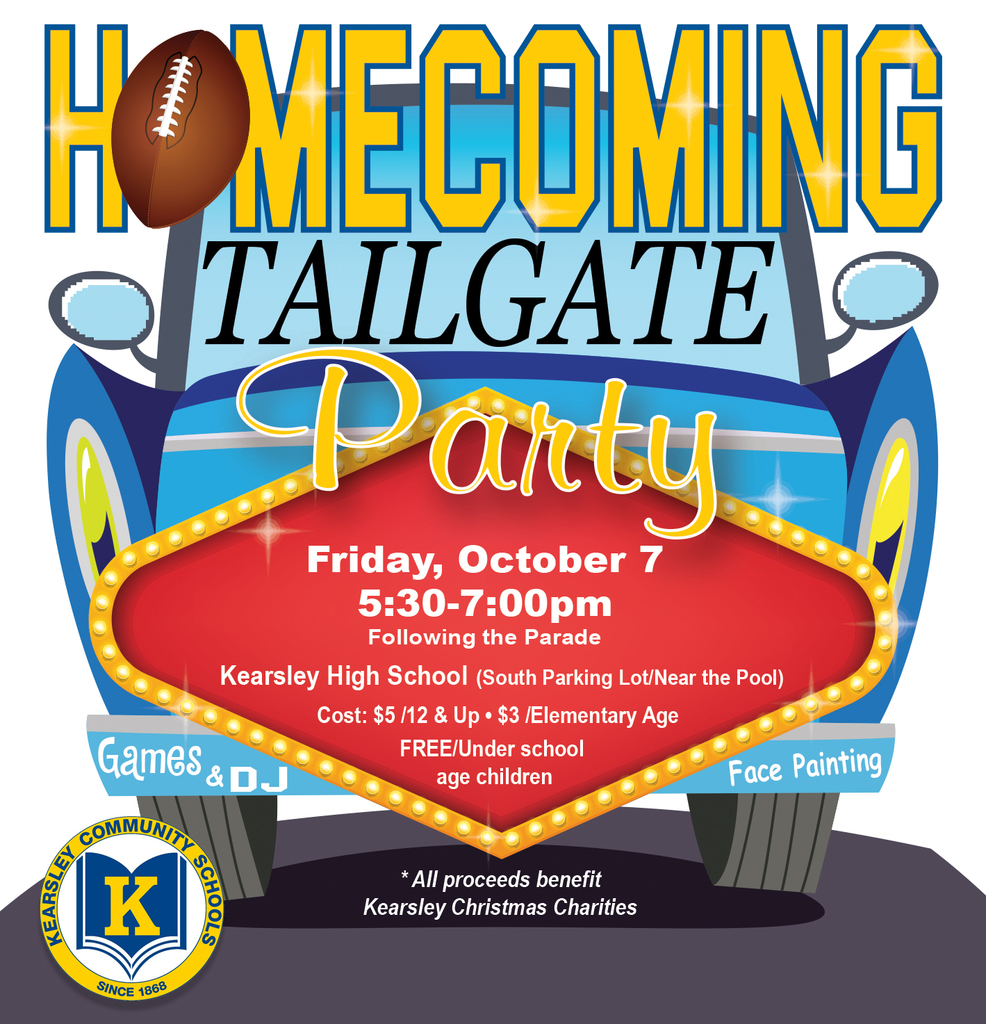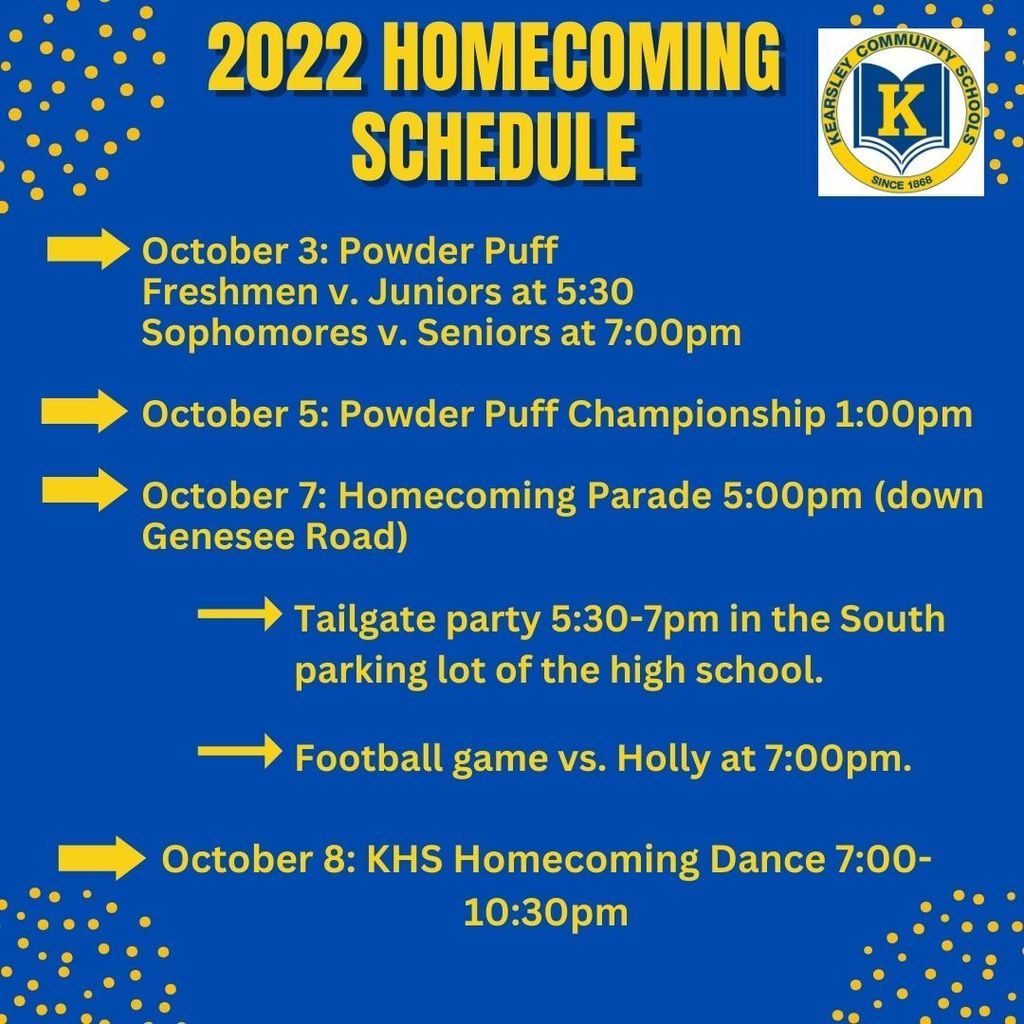 Hilton Screeners will be at KHS from 3pm-7pm Monday-Friday this week selling Kearsley spirit wear. Come stock up on your Hornet Homecoming apparel!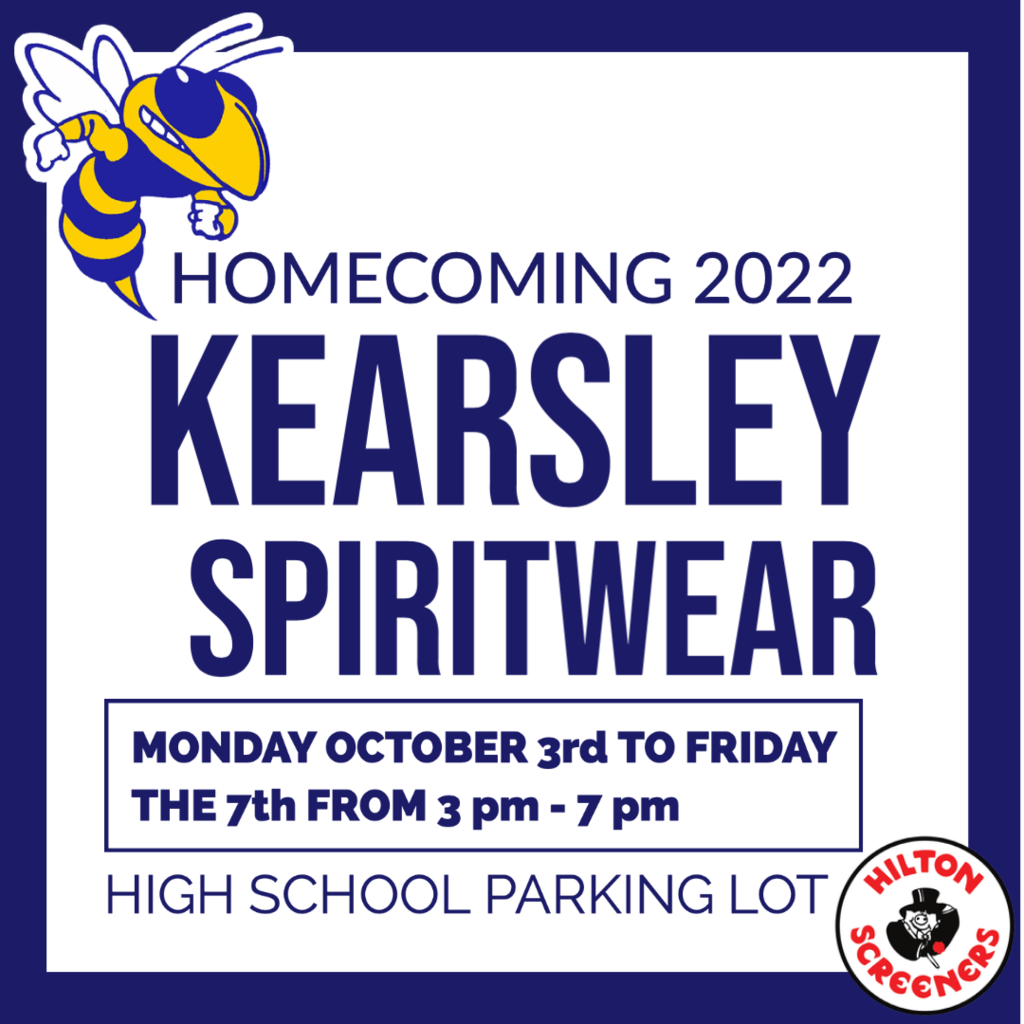 The annual Homecoming Community Tailgate party returns next Friday, October 7th immediately following the parade. Come join us for lots of food, fun and Kearsley spirit! All proceeds benefit the Kearsley Christmas Charities. 💙💛


Kearsley Families, We still have many families that have not yet completed the online annual renewal process for their student(s). Completing this process is extremely important as it ensures we have the most up-to-date contact information for you and your child's emergency contacts. We have already encountered situations this school year in which we needed to contact a parent for an emergency situation and did not have the most recent phone number or contact information. Included as part of this annual renewal process is completing the Household Income Form. Completion of this form is critically important to ensure we receive the maximum amount of federal and state funding. It also ensures that we can continue to offer universal breakfast and lunch to all Kearsley students. Pandemic EBT benefits that have provided supplemental food assistance benefits to families throughout the COVID-19 pandemic are also tied directly to the completion of this form. The entire renewal process should not take more than 10 minutes per child. You may complete annual renewal by simply accessing your child's ParentVue account. There is a direct link on the front page in the upper right hand corner of the Kearsley Schools website. If you need assistance logging into ParentVue, please contact us at 810-249-1266. Thank you, Paul Gaudard Superintendent Kearsley Community Schools


Kearsley Pineview families, We currently have more elementary students residing in Pineview than our bus routes can hold, therefore we have come up with an alternate solution to get all of our students to school safely. Bus #19 (15) will be at the 1st stop in Pineview at 7:55 a.m. and continue to the other stops to pick up Dowdall students only. The same Bus #19 (15) will come back to Pineview @ 8:15 am to pick up Fiedler students only. The afternoon route will be the same. Dowdall students will be dropped off @ 3:20 p.m. and then Fiedler students @ 3:40 p.m. This change will go into effect beginning tomorrow, Thursday September 15, 2022 and will continue throughout the remainder of the school year. As a result of these changes, Bus 7's run has been eliminated. Thank you for your patience and cooperation, Kearsley Transportation Department


Register now for the Kearsley Boys Basketball Golf Scramble on Sunday, October 2nd, 2022!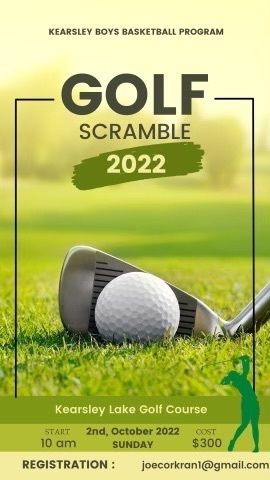 *Attention!!* Volunteer opportunities available for parents, students and community members!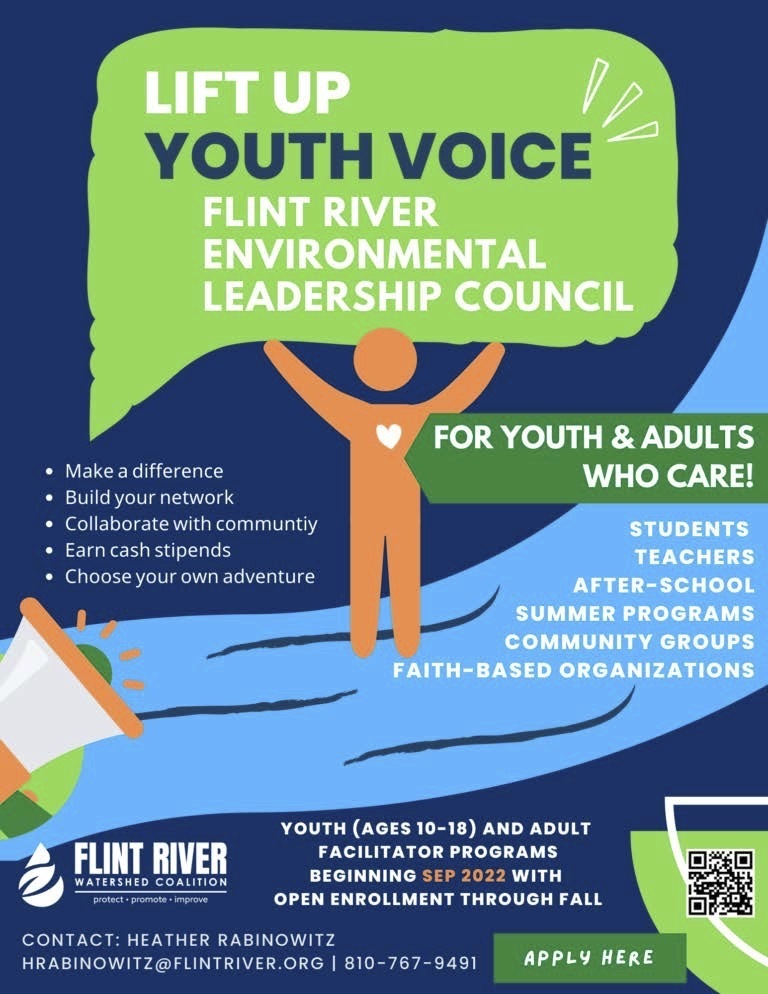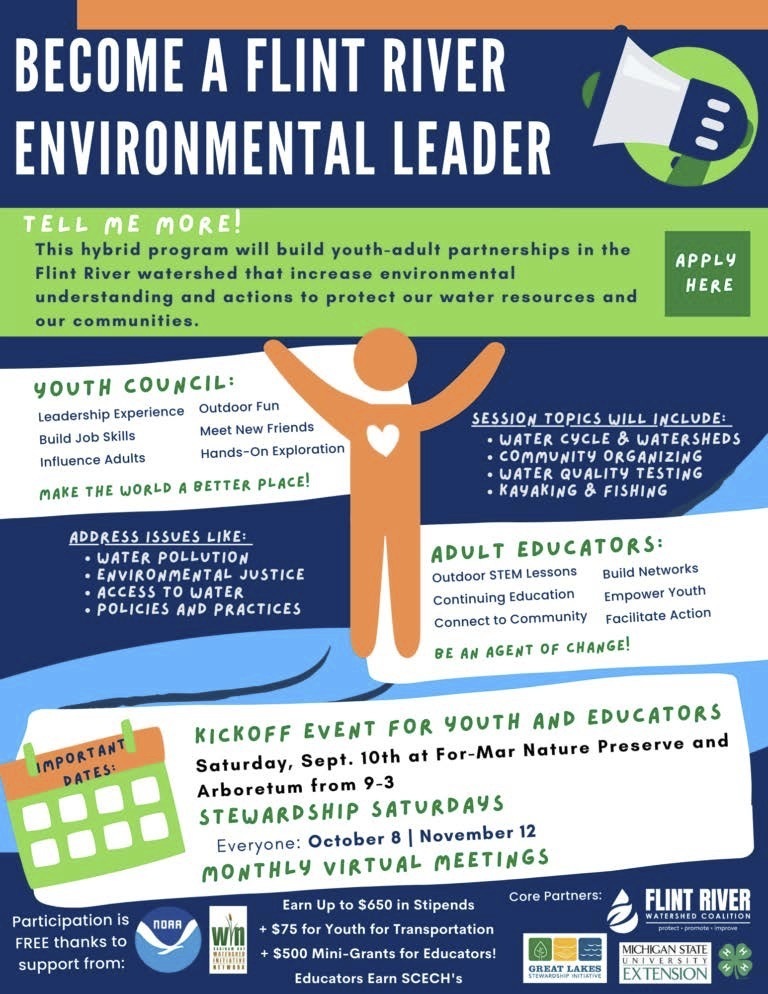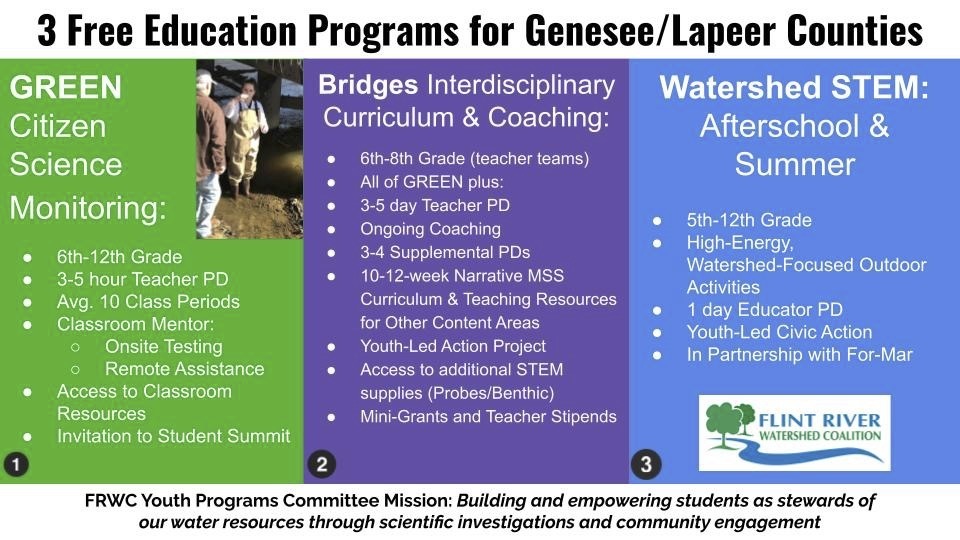 We're officially back tomorrow! We look forward to seeing everyone bright and early for our first day. As a reminder, here at the building start and dismissal times at all buidings. Be sure to tag us in those first day photos or use hastag #WelcomeBackKearsley. Its going to be a great year!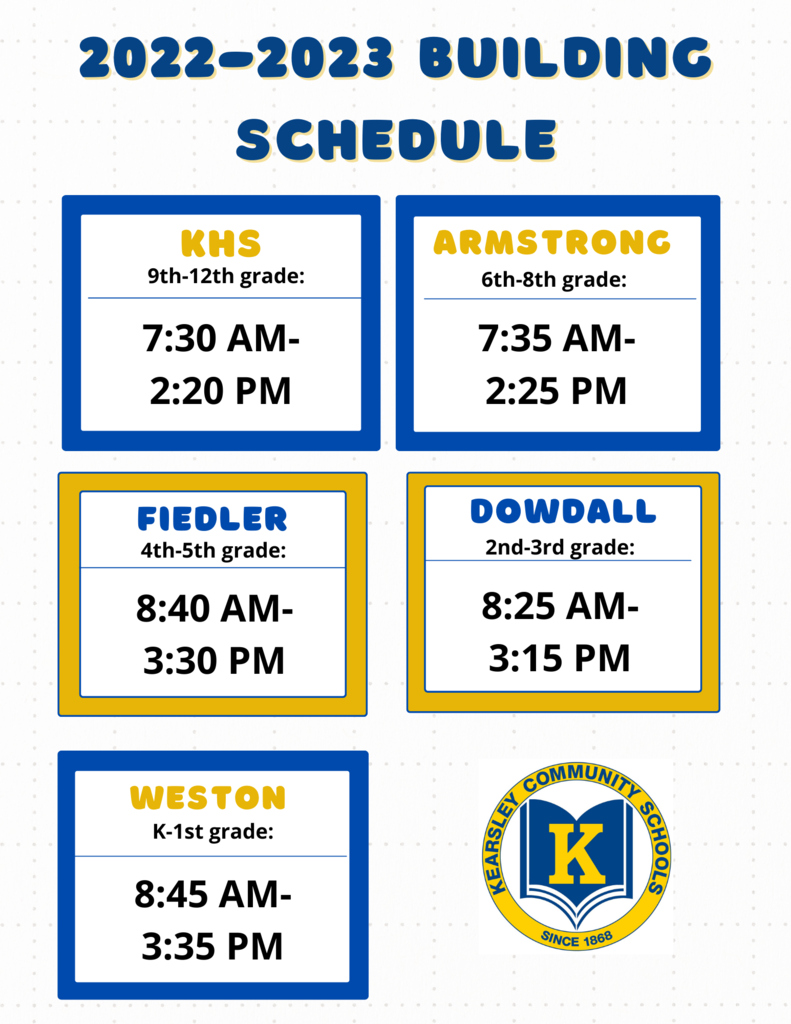 Our Kearsley Varsity Football Team will kickoff the season tomorrow night (Thursday, 8/25) at 7:30pm vs Carman-Ainsworth at historic Atwood Stadium. Tickets are now available for the Vehicle City Gridiron Classic on Gofan for $8, Follow the link below to purchase. No punchcards will be allowed for this event. Tickets will allow entry to the 4:00pm Grand Blanc vs. Grandville game as well as ours.
https://gofan.co/app/events/673872?schoolId=MI4412
Parking will be $5 in Atwood provided parking lots. Go Hornets!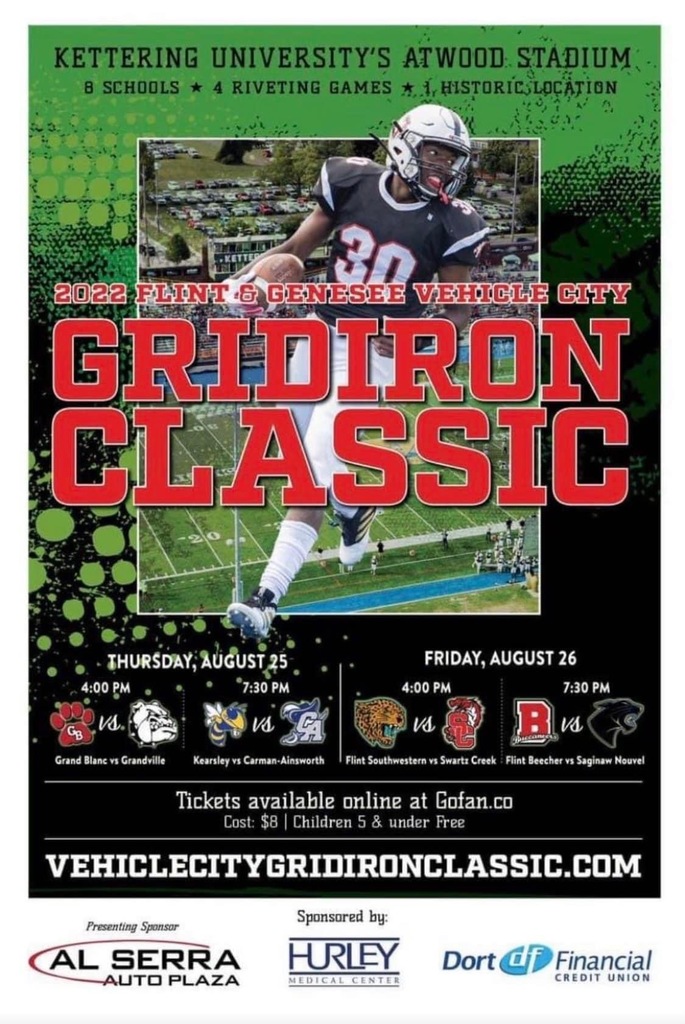 Weston Open House takes place tonight! 1st grade 4pm-5pm and DK/K from 6pm-7pm. 4th grade Open House takes place at Fiedler from 5pm-6pm. See you tonight!